How to Use Harmony Mails
Harmony Mails is super simple to use.
We offer three main types of advertising here. Email advertising, Banner Ad advertising and Text Ad advertising.
You may promote any site/affiliate url provided it does not breach our Terms of Service.
If you have any questions or need any help at all, send us a support ticket. We are here for you.
Email Advertising
Please note: The following notes are comprehensive, but in actual fact, to post your ad takes only 5 simple steps.
Add your Message Subject
Add your Message Body
Add your link
Add your credits
Hit Send
Harmony Mails is a credit based email service that is available to everyone. You do not need to own your own products
or website to make use of this service. It can be used to promote blogs, websites and affiliate urls.
Credits can be either earned or purchased. To earn credits, you click on the credit link within the emails that you receive
via our server from other members. Other members will likewise be earning credits when they click on credit links found
in emails that we send on your behalf.
You can either use your own text (ad copy) for your mailing, or if you are promoting as an affiliate, you will usually
find email ads within their promo/affiliate tools that you will find in your members area in their site.
Lets take a look at a screenshot of our email template which you will fill with your email promotion.
Subject is the text that the other members (recipients) will see in their inboxes before they open your mail.
Message body is what they will see when they've opened your mail.
You can decide to use plain text or make your email stand out a bit more by using the HTML editor
The HTML editor is easy for everyone to use. Simply use the buttons at the top to change format, use bold text or colors in some or all of your text. etc
Macros will appear in the your email body in the correct format. For example, if you put "Hello #FIRSTNAME# " in your email ad, then the recipients of your email will see their actual name. Name macros can be used in both or either subject and body.
The macro, #CREDITLINK# is optional and if used will add your site url to your email ad.
Under the Body, you have a field to enter your site url, which is the link to your blog, website, affiliate page etc. When recipients click this link they will go to your website page which will be framed with a surf bar timer. When the timer has finished, they will earn credits towards their own mailings.
You can choose how many credits to use. The maximum that you can enter there will depend on how many credits you have, how many members are available to email and how many your membership allows you to mail to.
If you have given your affiliate link of Harmony Mails to friends or colleagues, and they have joined you on that link. They are your downline referrals, and if you check the box "Send to My Downline Referrals", your email will also go to them without costing any of your credits.
Save as New Template. Saves your email ad for easy resending.
Banner Advertising
Banner Ads are image ads that once added to the system will show in the member's area and in the surf frames.
A banner ad in Harmony Mails, is a "full banner". The dimension is 468x60.
Please note: The following notes are comprehensive, but in actual fact, to post your banner ad takes only 3 simple steps.
Add your image link
Add your target link
Assign credits
Please view the following screenshot and its explanation follows that.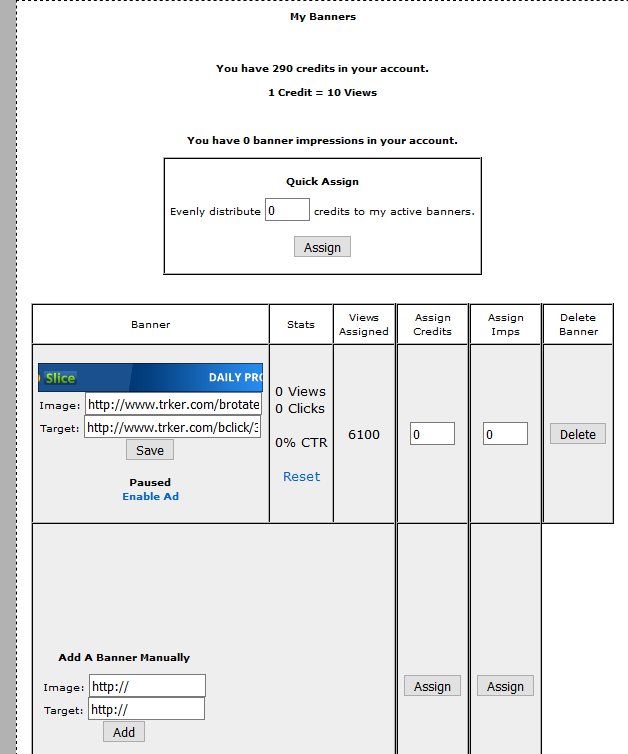 There are two http:// urls to add here. The image and the target.
The image is the 486x60 mentioned above. You can find one in the promotional toolbox of most programs where you are an affiliate. But you can also make your own using your pc or using a banner creator program such as Instant Banner Creator. If you are making your own using your pc, then you will need to upload the image to hosting. You can upload it to a free hosting service if you wish.
The target is the actual link of the webpage that you want people to visit when they click on your banner.
You can assign either credits or banner impressions to your banners. Credits conversion differs according to your membership level, with upgraded members getting a higher conversion ratio.
In the simple table where your banner is displayed, you can see your banner, your views (1 banner imp is used every time your banner is displayed to a member), your clicks (how many that clicked on it) and your ctr which is basically a view over click percentage. This is also where you can top up your impressions using your credit or banner imps balance.
Text Ad advertising
This is very similar to adding a banner ad, except in place of an image, you are going to add a few words.
You will get a higher conversion rate for credits to text imps than for banner imps. Conversion rate depends on your membership level.
Please note: Mailers such as Harmony Mails, will send many emails to your registered email address.
This is what safelist mailing is about. Member to member advertising via emails. You can filter your
emails in gmail to bypass your inbox and go to a folder which you only need to access when you want
to earn credits for your own mailings.
We hope this helps you get started fast and wish you all of the best success with your eMail promotions.
Pam and Mick Owen
TrendLegacyGroup.com